Excellence in Quality
Rapid Tyres are manufactured to the highest standards, using advanced equipment and top quality materials. In addition, Rapid tyres undergo rigorous product testing processes at all stages of development and manufacture. For these reasons, Rapid Tyres are so confident of the quality and reliability of our tyres, we guarantee it.
How to claim
To make a Tyre Life Guarantee claim, return the tyre to the branch it was purchased from. The retailer will then process this tyre as a 'claim tyre' as per our ISO9001 working practice and as such customers will be sold a new tyre, with the complaint tyre being sent for examination. A cheque/credit will then be issued for the relevant amount based on the amount of tread remaining on the tyre.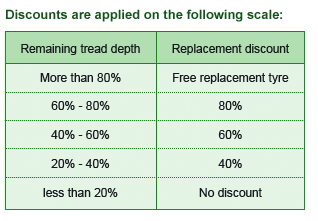 Guarantee Exclusions
The Guarantee covers material or manufacturing defects, and irreparable damage caused by normal road use. It excludes damage caused by the following:
A mechanical defect in the vehicle
Use of unsuitable wheels
Not maintaining correct tyre pressures
Carrying or towing loads in excess of vehicle specifications
Improper or prolonged use of snow chains
Competition use
Removal of a wheel or poor fitting of the tyre
Acts of God, fire, vandalism or theft
Road traffic accident damage or ensuing problems
Use of tyre that doesn't match the vehicle specification
Prolonged contact with acids, solvents or oils
Tyre Safety
Rapid Tyres recommend the following key areas should be checked to ensure that your tyres continue to perform safely and efficiently.
Tread Depth
All tread depths including the spare must be greater than the legal minimum limit of 1.6mm in a continuous band throughout the central ¾ of the tread width, and across the entire circumference of the tyre.
Grip diminishes progressively with wear and as a consequence stopping distances increase – especially in the wet.
Tyre Depth
Tyre pressures should be checked regularly, and always when the tyre is cold. Low tyre pressure can lead to:
Structural damage due to overheating
Increased vehicle fuel consumption
A reduction in grip
Irregular and premature wear of the tyreshoulder areas
Excessive tyre pressure can lead to:
Increased chance of a blow-out
Excessive wear on the centre of the tread
Less comfortable driving experience
Tracking & Alignment
Tracking and wheel alignment should be checked at regular intervals. Poor alignment and tracking causes irregular and rapid tyre wear resulting in the need to replace tyres more frequently.
Inspect your tyres regularly for visible signs of damage, such as cuts or bulges in the sidewall or uneven wear. Have any damage checked over by your tyre retailer as soon as possible.